Business hours 7 AM – 5 PM: 732-885-3113
Emergency after hours: 732-885-5555
Temperature Control Rentals in New Jersey, Eastern Pennsylvania, Northern Delaware & Staten Island
Foley Power Systems Rentals has options available for all of your temperature control rental needs. The right temperature control equipment and solutions not only make for a more comfortable working environment, but they can also save you money in several ways when you rent from us:
Less waste due to more efficient heating and cooling technology
Less equipment downtime thanks to more reliable equipment design
The ability to replace a unit with a larger system as your heating and cooling needs change
Emergency temperature control equipment when your main system is out of service
We can supply rentals of air-cooled and water-cooled units, air towers, chillers, air conditioners, air compressors, heaters, flex duct/hose, turnkey installations, and more. We offer short-term and long-term rentals for all of your industrial business needs. We will work with you to assess your cooling or heating requirements, then ensure proper delivery, installation, startup, and service of your rental or purchased units.
Quality Equipment From Your Local Cat® Dealer
Foley, Inc. is the exclusive source for Cat® sales and service in New Jersey, eastern Pennsylvania, northern Delaware, and Staten Island. Foley Power Systems Rentals is your one-stop headquarters for Cat temperature control rentals at competitive short-term and long-term rates. Our rent-to-own option is ideal if you wish to purchase the equipment at a later time.
Powered by Cat engines, our fleet of temperature control equipment is serviced by factory-trained technicians who have access to sophisticated diagnostic technology and other tools. This ensures that, when you rent from us, you get a unit that's ready to deliver reliable and efficient performance in even the most demanding applications.
We deliver turnkey rental solutions that are ready to be put to work right away. If you have any problems during your rental, our team of technicians is available 24/7 to diagnose and repair or replace your equipment to keep your temperatures where you need them. That's the advantage of working with an industry leader like Foley, Inc. Call a location near you to request a quote.
Applications and Industries
Our extensive selection of temperature control equipment rentals ensures we will have the right product for your applications and budget, regardless of your industry. Our diverse inventory of rental equipment includes:
Industrial air conditioners for use in temporary facilities and events, large motor cooling, dense air injection, and other specialized applications. Multiple supply and return connections provide exceptional on-the-job flexibility, while sophisticated controls allow for precise monitoring of temperatures in delicate processes.
Electric heaters for temporary shelters, job sites, construction applications, and more. Our portable rental units are easy to transport and economical to run on a day-to-day basis. Count on them to provide reliable, moisture-free heat in your application.
Air- and water-cooled chillers for turbine inlet cooling, alkylation, dense air injection, and other processes. Housed in a weatherized trailer, these all-in-one units are economical to transport and contain everything you need to get up and running quickly.
Cooling towers and air handlers for standalone containment, jacketed reactor cooling, large motor cooling, scrubber cooling, and other applications. Reliable and economical to run, they can be run individually for small spaces or multiple units together for larger applications.
Desiccant dehumidifiers that can be used for mold and fungus prevention, disaster restoration, corrosion protection, surface preparation and coating, and a variety of other applications. Our products are routinely used in pharmaceutical, food and beverage, and other demanding industries.
In addition to the above, our rental fleet also includes cooling towers, heat exchanges, and other HVAC equipment. Keep reading for detailed specifications or speak with a representative directly to learn more about specific capabilities and applications for different models.
Regardless of what the task entails, we'll put together a complete package of equipment and accessories at a price that's right for your budget. Whether you are planning a temporary shut-down or you need an emergency rental generator or air conditioning unit during an unexpected event, Foley will work with you to provide your equipment rental as quickly as possible.
Our capability for industrial rentals includes:
Maintaining ideal process temperatures for performance and profit
Control humidity and heat in critical manufacturing spaces
Cool workspaces to keep employees comfortable and more productive
Create pleasant environments for sporting events, parties, and special events
Business hours 7 AM – 5 PM: 732-885-3113
Emergency after hours: 732-885-5555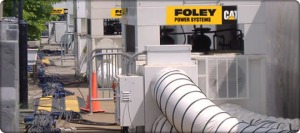 Maximize Output and Quality
Keep your process temperature at optimal levels for maximum output and quality. Cat temperature control equipment provides cost-effective, flexible solutions that can help you:
Inject cool, dense air to maximize turbine efficiency
Provide comfort for an outdoor picnic, reception, or show
Cool a building shell for worker comfort during construction
Back-up installed chillers during peak summer temperatures
Many of our customers require precise temperature control for critical installations to ensure a comfortable experience for customers and employees. Whatever your heating and cooling needs, a Foley Power Systems Rental climate control equipment rental is your best solution.
Everything You Need for Optimal Temperature Control
Cat air conditioners and chillers can handle cooling loads of any kind and size. Our fleet includes: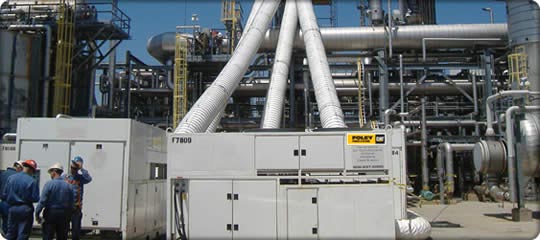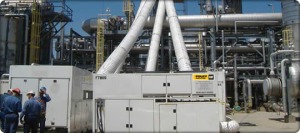 5 Ton – 90 Ton Units
Thermostatically Controlled
Fixed and Variable Speed Fans
0-19,500 CFM
Temporary Ducting
Skid/Trailer Mounted
With individual units capable of generating 80 tons of cooling capacity, our direct expansion air conditioners produce up to 19,500 cfm of cool, dry air for tents, warehouses, data centers, manufacturing processes, or anywhere you need conditioned air.
Take the guesswork out of your installation. Chillers come with water pumps and standard connections for fast, flexible hookup. You can adjust chiller flow rates to vary capacity; connect units in parallel for large loads; combine chillers with air handlers for endless cool-air production. Our full line of accessories includes:
Cool-air ductwork and diffusers
Coolant pumps and hoses
Flanges and valves
Fuel tanks up to 1,000 gallons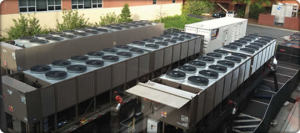 We also have a large selection of industrial heaters for cooler seasons. Depending on your heating needs, we have different heater rentals available:
Electric heaters ranging from 12 to 150 kW
Indirect-fired heaters up to 1.4M BTU
Make-up air heaters up to 600,000 BTU
Direct-fired heaters ranging from 400,000 to 3.5M BTU
Thanks to the performance and efficiency of the Cat engines at the heart of each heater, you benefit from reduced heating costs and greater reliability. Your best choice for all of your temporary heater rentals is through our team here at Foley, Inc., so contact us today to learn more and for a free quote.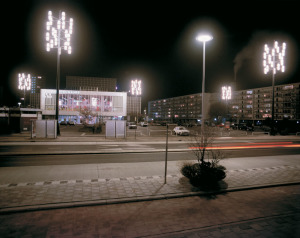 Temperature Control Equipment: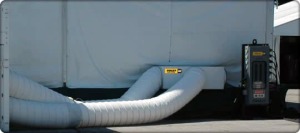 A Temperature Control Rental Adds Value to Your Business
When you rent temperature control equipment, you can fill an immediate need for your company without making a long-term commitment. You'll have more capital to invest in other areas of your operation, which can help your business grow and significantly improve your financial standing. Renting also allows you to avoid costs such as maintenance, storage, depreciation, and insurance.
With rental temperature control equipment, you can select the option that best fits a specific task, improving efficiency and performance.
Cat Temperature Control Rentals From Foley Power Systems Rentals
It doesn't matter if you're looking to stay cool or warm up — Foley Power Rentals has your temperature control equipment solution. Customers use our equipment every day to guarantee the right temperature for their critical processes, facilities, and events for short- and long-term periods, so contact us today to obtain your rental quote. You can also visit one of our locations and speak with us in person. We would be happy to discuss your temperature control needs and show you our various heating and cooling solutions.
Want to Know More About Temperature Control Rentals?
For more information, please contact:
Business hours 7 AM – 5 PM: 732-885-3113
Emergency after hours: 732-885-5555
You can also fill out and submit our online contact form.