Load Banks
Load Bank Rentals
Does your business depend on generators and other portable power generation equipment? Load banks are essential for testing and ensuring the proper operation of these power sources, as well as for preventing issues such as wet stacking during the combustion process. Use a load bank rental to monitor your power generation systems at their fully rated capacity to get an accurate reading of their performance.
If you're looking to rent a load bank in New Jersey, eastern Pennsylvania, northern Delaware, Staten Island, or Bermuda, Foley Rents has the right equipment for the job. We maintain a large selection of generator load banks for rent at competitive rates. Our flexible short-term, long-term, and rent-to-own agreements ensure the ideal fit for your needs and budget.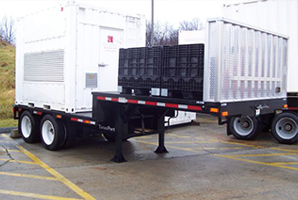 About Our Load Bank Rentals
Our inventory of portable load banks for rent consists of resistive/reactive units that can accurately replicate motor loads and electromagnetic devices, as well as provide purely resistive loads when needed. We feature high-quality, late-model equipment from leading manufacturers with capacities ranging from 100 kW to 3,000 kW. Our equipment experts can help you choose the right load bank for your unique power generation applications and offer valuable advice on how to use it effectively and safely.
Resistive/Reactive
100 kW
1,000 kW
250 kW
1,500 kW
400 kW
2,000 kW
800 kW
2,690 kW
Click Here to View Our Load Bank Line Card
What Are the Benefits of Renting?
Renting load banks or any other type of heavy equipment can provide a fast solution that will keep your projects moving forward. Rentals are ideal for adding to your fleet to meet an increase in demand without making a significant financial investment. When you rent, you'll minimize, and in some cases, avoid the costs that come with ownership, such as maintenance, storage, and repairs. If you're considering purchasing a piece of equipment, a rental gives you the chance to take it for a "test drive" before committing.
Why Rent From Us?
When you choose a generator load bank rental from Foley Rents, you'll get a well-maintained, thoroughly inspected product you can trust. You'll also receive excellent service from the point of initial contact throughout the duration of your rental agreement. Our multiple locations across the region and streamlined process make renting from us a fast, easy, and convenient endeavor that saves time and hassles.
For more information, please contact:
Laurie Benninger
Business hours 7 AM – 5 PM: 732-885-3080
Emergency after hours: 732-885-5555