Chillers
Rent a Commercial Chiller in New Jersey, Eastern Pennsylvania, Northern Delaware & Staten Island
Commercial chillers play an important role in a number of industrial processes and other applications. When precise control over cold temperatures is required, you need equipment that will deliver reliable performance at a low operating cost.
One of the best ways to get the performance you need from a chiller without a huge upfront investment is through chiller rentals. Chiller rentals will allow you to achieve the temperature you need for the length of time you need it. You'll never have to worry about repairs or maintenance either, which will make the process that much more enjoyable and beneficial for your operation.
To better serve our diverse client base, Foley, Inc. carries an extensive inventory of air- and water-cooled chillers for rent. Based in Piscataway, we offer service throughout New Jersey, Eastern Pennsylvania, Northern Delaware, and Staten Island, and have more than 50 years' worth of experience meeting the heavy equipment needs of our clients. Browse our services or contact a representative today for detailed information about our chiller rental services.
Business hours 7 AM – 5 PM: 732-885-3080
Emergency after hours: 732-885-5555
Our Inventory
All industrial chillers in our rental inventory are self-contained units equipped with everything you need to connect and start working right away. Our chillers feature low hours and are routinely inspected and serviced by a team of factory-trained technicians. As a result, you can count on them for reliable performance, whether you need them for a short job or for a longer-term rental.
Our current inventory contains air-cooled chiller rentals between 30 and 450 tons. These units require no special equipment to mount and are easy to transport around a job site. Because they don't need additional water treatment or piping, air-cooled chillers are best suited for light-to-medium-duty chilling applications, where simplicity is desired.
For bigger projects and heavy-duty applications, our inventory of chiller rentals also includes water-cooled units of 525 and 500 tons. Our highly efficient 500-ton chillers can obtain temperatures as low as -40ºF, and they come delivered in a weatherproof ISO container that can easily stand up to the most demanding environments.
Options
When you choose Foley, Inc. for chillers for rent, you'll enjoy a range of options that allows you to get the exact level of performance needed for your application. Our industrial chiller rentals are available with vibration absorbers, insulated water lines, lockable doors, freeze protection, and more. As an added benefit, when you rent a chiller from Foley, Inc., you can know that each has been properly maintained and repaired by our own technicians. When you secure your commercial chiller rental, you can rest assured that it's ready to perform as needed for your purposes.
Applications
Whatever the task entails, we have a portable chiller rental that will meet your requirements. All chillers come equipped with variable-flow water pumps, valves, suction strainers, and all other hardware necessary to support a wide range of potential applications. These can include:
Alkylation
Wet gas compressor cooling
Concrete cooling
Dense air injection
Environmental control
Plastic production
Turbine inlet cooling
Waste water treatment
And more
As the authorized Cat® representative for New Jersey, eastern Pennsylvania, northern Delaware, and Staten Island, the team at Foley, Inc. knows the company's machines. We can help you assess your cooling needs to determine the rental unit that will deliver the best combination of value and performance. We can also provide delivery and on-site installation support, ensuring your rental is properly configured to meet all regulatory requirements.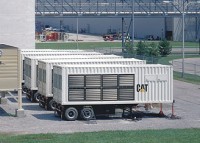 The Benefits of Commercial Chiller Rentals
What benefits do you get from renting rather than buying a commercial chiller? When you choose Foley, Inc. for chiller rentals, you'll enjoy the following:
Competitive prices: Choose Foley, Inc. to rent a chiller, and you'll get access to everyday low pricing. We want our customers to be able to access value through commercial chiller rentals, and we designed our rental prices to help them get the value they need.
Custom terms: You can rent a chiller for as short or long a time period as needed. We understand that all of our customers have different and unique needs, and we offer custom terms so that these various individuals can create unique chiller rental experiences.
Pickup and delivery: Industrial chiller rentals can be streamlined and easy when you choose Foley, Inc. We facilitate pickup and delivery so that you can maximize your time using your chiller rental.
Ongoing support: When you rent a chiller from Foley, Inc., you'll have access to ongoing support 24 hours a day, seven days a week. There will never be a moment when you're on your own. Should something happen to your rental equipment, we'll be here to help.
New, low-hour rentals: You won't be renting old chillers that have seen better days when you choose Foley, Inc. Our selection of chiller rentals includes new, low-hour equipment that you can count on for peak performance throughout your rental term.
Zero maintenance/repair requirements: The best part about chillers for rent is that you never have to worry about maintenance and repairs. We'll take care of the hard part while you focus on using your chiller to do whatever is needed at your facility.
You'll discover these benefits and more when you choose chillers for rent from Foley, Inc.